Welcome to the CFO Club - where senior finance leaders debate, travel, learn and share ideas about a constantly changing profession. Join more than 200 leading finance bosses today.
The journey from a Chartered Accountant (CA) to a Chief Financial Officer (CFO) is a transformative one, requiring a shift from technical expertise to strategic
Read More »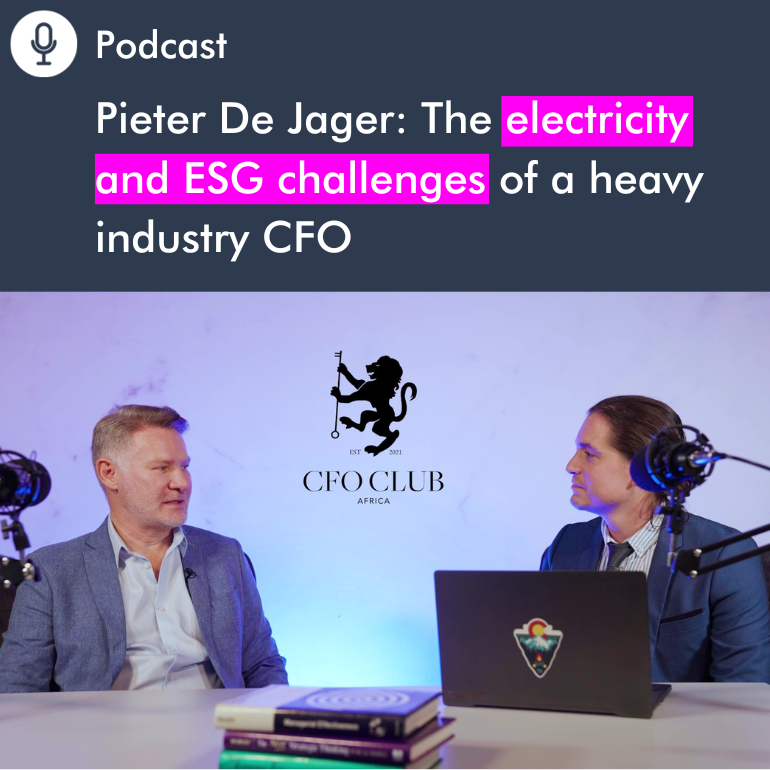 Pieter De Jager: The electricity and ESG challenges of a heavy industry CFO Written by: Leigh Schaller Pieter de Jager explains how managing the short-term
Read More »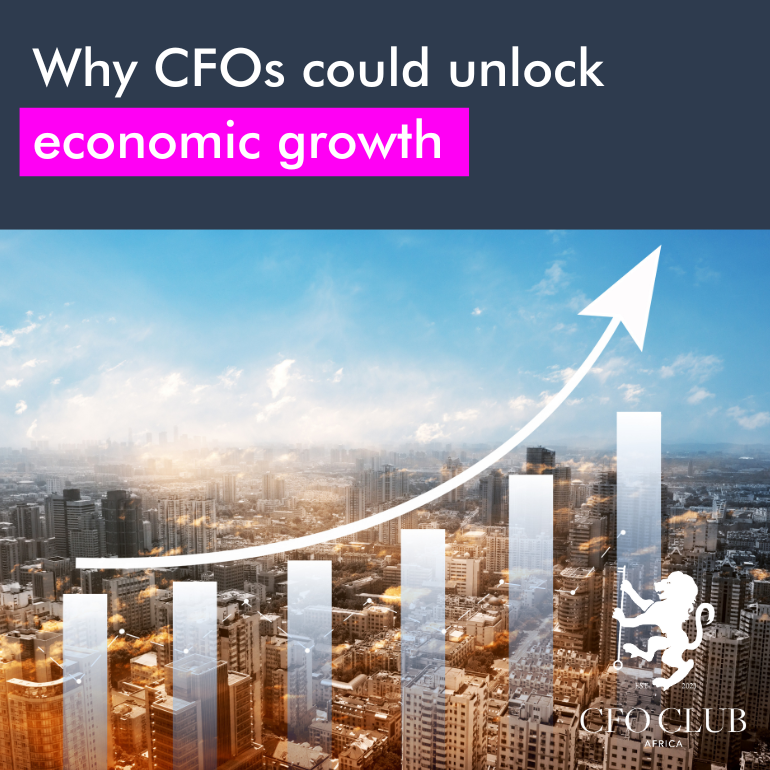 Written by Staff Writer Nicolaas van Wyk recently spoke on a #CFOClubConvo webinar about the project he is spearheading with the Gauteng MEC for
Read More »
Latest CFO Club podcast episode: Pieter de Jager
Pieter de Jager explains how managing the short-term needs of heavy industry – to keep production churning – and a long-term shift to greener energy can leave CFOs caught between cement and a hard place.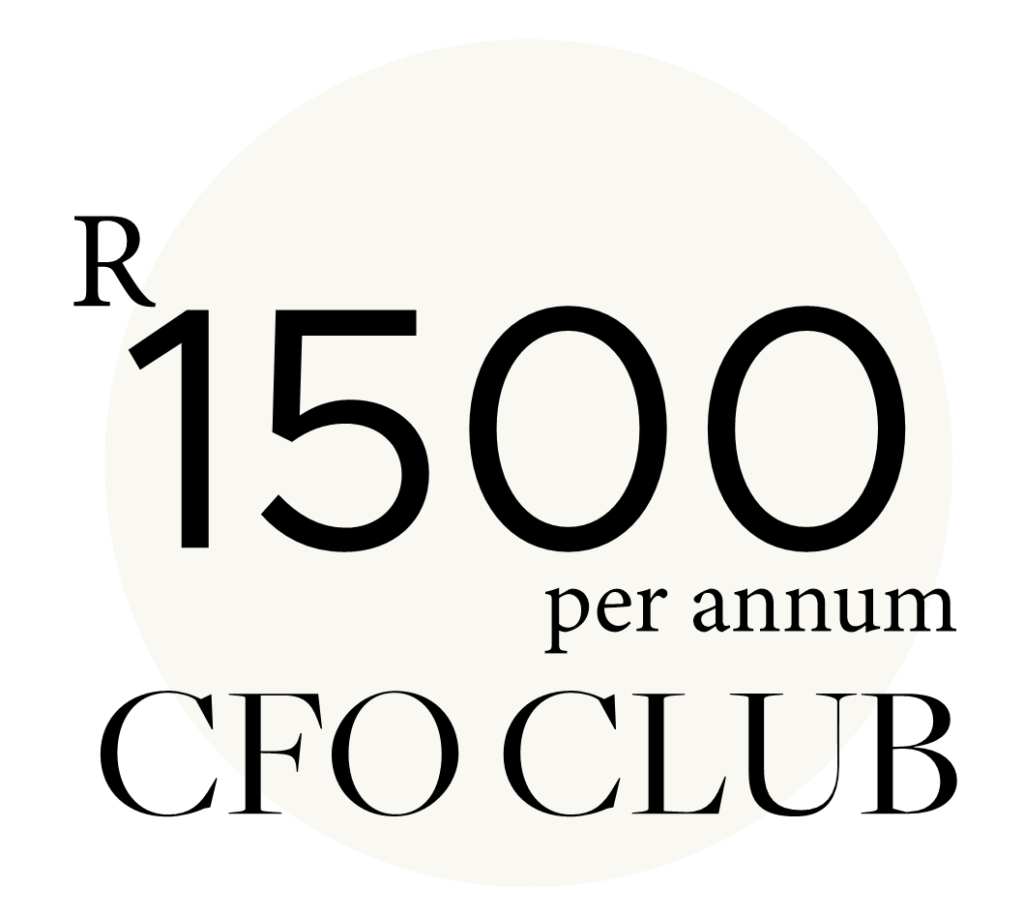 Forums
Go deep with industry influencers on the most relevant finance issues.
Members-Only Programs
Experience unique opportunities designed to build deep relationships.

Peer and Leadership Development

Become a better, more effective leader for your team and company.

Signature Series events

Hear how the world's best finance leaders are tackling today's biggest issues.
More Benefits
Tell your story: An exclusive interview with you as our guest. Published on all our channels and available to you for your distribution.
Be part of an international community of Finance Executives – ICFOA and CFO Alliance
Exclusive access to our CFO Talks Videocasts
CFO Talks Blog
CFO Book Club
Weekly CFO Club Member Newsletter
Access to communities of experts via our exclusive mobile app
10% off on the annual World Congress
20% off on applications for the CFO(SA) and
CBA(SA) designations
Proof that you are committed to ethical conduct and
lifelong learning
Earn CPD points at no extra cost at our events
Regular free webinars with industry experts
Contact with local structures and special interest
committees
CFO Club Podcast
In-depth interviews with South Africa's finance leaders
CFO Club
The Chartered Institute for Business Accountants (CIBA), together with CFO associations in Tunisia, Morocco and Algeria identified a need to give a voice to CFOs working in Africa.

CFO Club Africa was established and the group co-created the CFO Alliance with CFO Associations in Europe and the Americas.
Purpose: The purpose of this was to give a space for CFOs to share best practices, advice, and connections with African and global Finance Leaders.
"The CFO Club has opened many new doors for me. If you want to expand your network and excel in your career as a Finance Leader, join me and become a CFO Club Member." – Sajjanna Ramesh CFO(SA) Finance Director, Kapersky Lab Africa
Become a CFO Club member today
The CFO Club Africa is open to all CFOs and Financial Managers working in Africa.
Build your career and network.
Join the Club and get connected with African Finance leaders, global decision makers, standard
setters and government policy makers.
Connect globally With a network of more than 5000 International Finance Leaders, you will elevate your career with insightful resources and niche networking
opportunities, when joining the CFO Club.
Whether you want to expand your business into Africa or want to connect with multi-national Finance Leaders, this is the community that will set you on a path to success.
We facilitate new connections, inspire, and give access to world-class education – making CFO Club the perfect launchpad into becoming the best Finance Executive you can be.
If you are a CFO, FD, FM, or equivalent working for a large corporate or state entity, you qualify to join the club.
CFO Club membership is automatically included once you've earned your CFO(SA) or CBA(SA) designation.
CFO | Silon LLC
"If you cannot be a strategic complement to your CEO, you are probably not doing your job right."
National Agricultural Marketing Council
The CFO Club has added a sense of fulfillment and elevation to my career both personally and in a corporate world.
Strategic CFO and Management Consultant
The CFO Club and the CFO (SA) is my confidence. Since I have been awarded CFO(SA) I got self-confidence. CFO(SA) defines "ME".
Being a CFO(SA)
Being a CFO(SA) has assisted me in being trusted as a business partner within the organizations which I am involved in.
Sanlam Corporate Finance
It was a long and winding road to achieve, but absolutely worth it.
The profile of a Modern CFO
Get familiar with the 34 competencies that club members can use to determine whether they qualify for a designation.
Step up with the CFO Club
Connect with the CFO Club Team