Join the Club
The CFO Club Africa is open to all CFOs and Financial Managers working in Africa.
Build your career and network.
Join the Club and get connected with African Finance leaders, global decision makers, standard setters and government policy makers.
Connect globally With a network of more than 5000 International Finance Leaders, you will elevate your career with insightful resources and niche networking opportunities, when joining the CFO Club.
Whether you want to expand your business into Africa or want to connect with multi-national Finance Leaders, this is the community that will set you on a path to success.
We facilitate new connections, inspire, and give access to world-class education – making CFO Club the perfect launchpad into becoming the best Finance Executive you can be.
If you are a CFO, FD, FM, or equivalent working for a large corporate or state entity, you qualify to join the club.
CFO Club
SAIBA, together with CFO associations in Tunisia, Morocco and Algeria identified a need to give a voice to CFOs working in Africa. CFO Club Africa was established and the group co-created the CFO Alliance with CFO Associations in Europe and the Americas.
Purpose: The purpose of this was to give a space for CFOs to share best practices, advice, and connections with African and global Finance Leaders.
"The CFO Club has opened many new doors for me. If you want to expand your network and excel in your career as a Finance Leader, join me and become a CFO Club Member." – Sajjanna Ramesh CFO(SA) Finance Director, Kapersky Lab Africa
CFOTalks
Listen to in-depth interviews with key insights from the desk of the CFO. Plus join the CFO Club and gain exclusive access to additional content - find out from these Finance Leaders what made them successful.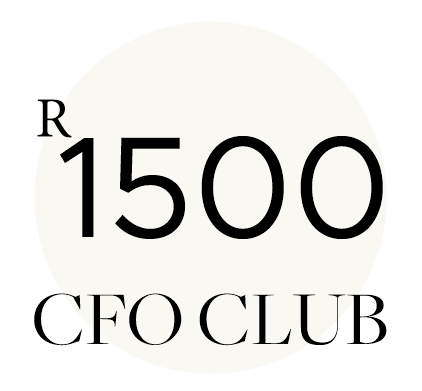 Forums
Go deep with industry influencers on the most relevant finance issues.
Members-Only Programs
Experience unique opportunities designed to build deep relationships.

Peer and Leadership Development

Become a better, more effective leader for your team and company.

Signature Series events

Hear how the world's best finance leaders are tackling today's biggest issues.
Other Benefits
Be part of an international community of Finance Executives – IAFEI and CFO Alliance
CFO Talks Podcasts
CFO Talks Blog
Book Club
CFO Club Newsletter
Access to communities of experts
10% discount on the annual World Congress
20% Discount for the applications for the CFO(SA) and CBA(SA) designations
Proof that you are committed to ethical conduct and lifelong learning
Discount on CPD events
Regular free webinars with industry experts
Contact with local structures and special interest committees
CFO Club membership is automatically included once you've earned your CFO(SA) or CBA(SA) designation.
CFO | Silon LLC
"If you cannot be a strategic complement to your CEO, you are probably not doing your job right."
National Agricultural Marketing Council
The CFO Club has added a sense of fulfillment and elevation to my career both personally and in a corporate world.
Strategic CFO and Management Consultant
The CFO Club and the CFO (SA) is my confidence. Since I have been awarded CFO(SA) I got self-confidence. CFO(SA) defines "ME".
Being a CFO(SA)
Being a CFO(SA) has assisted me in being trusted as a business partner within the organizations which I am involved in.
Sanlam Corporate Finance
It was a long and winding road to achieve, but absolutely worth it.
The profile of a Modern CFO
Get familiar with the 34 competencies that club members can use to determine whether they qualify for a designation.
Step up with the CFO Club
Connect with the CFO Club Team