The Chartered Institute for Business Accountants (CIBA) is a founding member of the International CFO Alliance and the official CFO Professional Body in South Africa with a SAQA Registered CFO designation and therefore has been appointed as Convener of the CFO Roundtable by the MEC of Finance in Gauteng, Honorable Jacob Mamabolo, to spearhead a unique initiative. This initiative aims to foster collaboration between CFOs of major private sector companies in Gauteng and key government officials. The primary objective is to address challenges, streamline processes, and drive economic growth in the province.
The CEO Pledge and the birth of the CFO Roundtables
In June 2023, a groundbreaking collaboration was forged between the government and business sectors with a singular vision: to catalyze the growth of South Africa's economy. This alliance, underscored by the CEO pledge, set forth to restore public and investor confidence by confronting three pivotal challenges: Energy, Logistics, and Crime & Corruption. As CFO we emulate this initiative by establishing the CFO Roundtable. 
Why the CFO Roundtable Matters to CFOs and their Companies
Tackling Red Tape: One of the primary objectives of our roundtable discussions is to identify and address bureaucratic hurdles that hinder business growth. By engaging directly with government officials, we aim to streamline processes, making it easier for businesses to operate and expand in Gauteng.
Direct Engagement with Decision Makers: The roundtables provide a unique opportunity for CFOs to meet face-to-face with officials representing all Gauteng government bodies, departments, and agencies. Whether it's licenses, infrastructure improvements, or any other governmental interaction, this is your chance to discuss, influence, and expedite processes that directly impact your company.
Enhancing Your Company's Bottom Line: By addressing these challenges, we believe businesses can operate more efficiently, leading to increased profitability and growth.
Elevating Your Influence: Your active participation and insights will not only benefit your company but will also enhance your personal status with your board. Being at the forefront of these discussions positions you as a key influencer and decision-maker.
Mirroring the national initiative, the core of this initiative is the roundtable setting, where CFOs from specific sectors will engage directly with Gauteng government officials who play a role in their business ecosystem. This direct engagement ensures that challenges are addressed holistically, with input from both the private and public sectors.
For instance, when CFOs from the retail sector are convened, all relevant Gauteng officials impacting their business will be in attendance. This ensures comprehensive discussions around blockages, red tape, and potential solutions.
Identify Challenges: Understand specific challenges and bottlenecks faced by businesses in Gauteng, similar to the national focus on energy, logistics, and crime and corruption.
Streamline Processes: Collaboratively find ways to reduce red tape, drawing inspiration from the national initiative's focus on energy and logistics reforms.
Drive Economic Growth: Boost the GDP of Gauteng and create more employment opportunities, aligning with the national objective of growing South Africa's economy.
Foster Collaboration: Strengthen the relationship between the private sector and government, ensuring both parties work towards a common goal.
Private Sector: CFOs of major companies operating in Gauteng, representing various sectors.
Public Sector: The Premier of Gauteng, MECs, and other relevant government officials.
Annual Review: An annual review will assess progress, challenges addressed, and the way forward.
Pledge Signing: 29 November 2023. This will mark the official commencement of the initiative.

Monthly Roundtables: Every month, a roundtable will be organized focusing on a specific sector, similar to the national initiative's focus on energy, logistics, and crime and corruption.

Annual Review: An annual review will assess progress, challenges addressed, and the way forward.
Drawing from the national initiative:
Committees and Work Streams: Focus Group and Sectorial Roundtables to address specific challenges.
Legislative Reforms: Prioritize the passage of critical reform legislation to support business growth in Gauteng.
Engagement with Social Partners: Continuously engage with other social partners to advance collaboration on shared provincial objectives.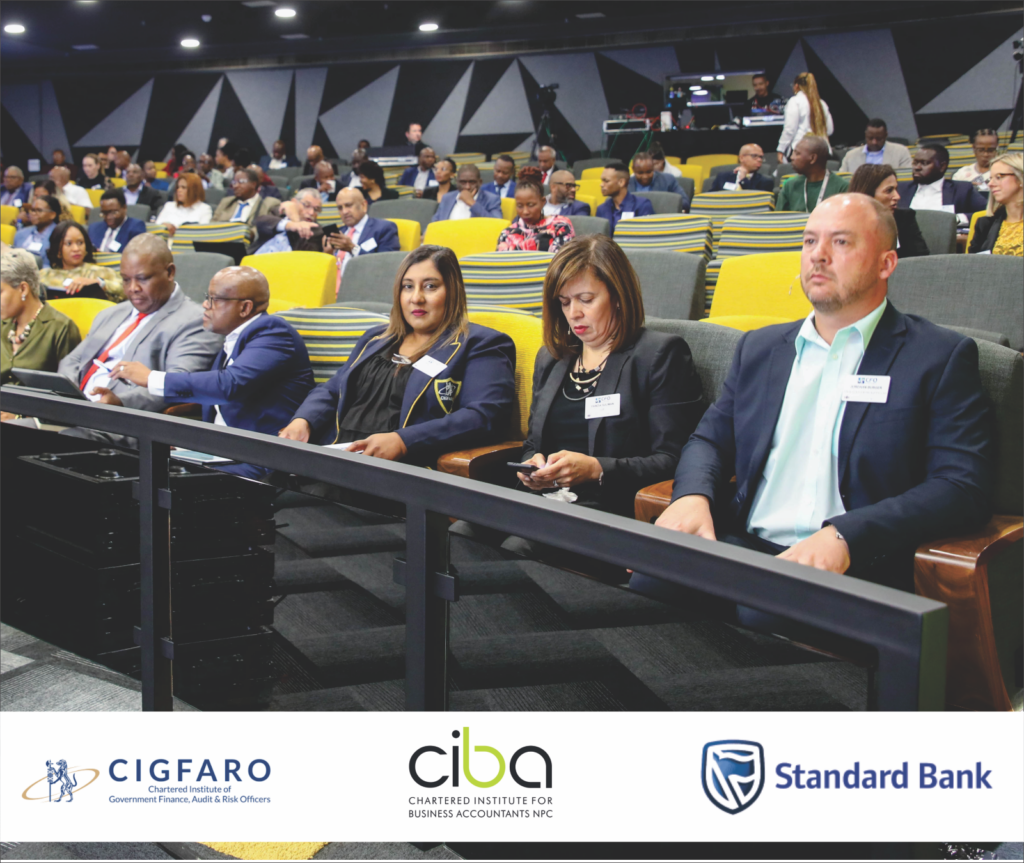 The CFO Roundtable was launched on the 11 September 2023 as an initiative led by the private sector and backed by the Gauteng Provincial Treasury set to tap into substantial private investments to boost South Africa's main economic hub.
Launched at Standard Bank in Johannesburg, the "CFO Roundtable" seeks to elevate Gauteng's GDP contribution to over 35% and achieve an economic output of R2-trillion, aligning government goals with corporate investment. Event partners included Standard Bank, CIGFARO, and CIBA.
Participating in the Roundtable events
Step 1: Sign the pledge to commit to good governance in Gauteng Province
Step 2: Join the CFO Club and indicate your economic sector
Step 3: Attend the Official CFO Pledge signing event and become part of the CFO task team in transforming Gauteng GDP
Step 1: Gauteng CFO Pledge 2023
In the spirit of collaboration and shared vision for Gauteng's future, we present this pledge in the context of the recent CEO Pledge signed by more than 115 of South Africa's biggest companies.
This is not a solicitation for financial commitments or obligatory investments; rather, it's a reflection of our joint resolve to champion the province's growth and prosperity.
As Chief Financial Officers, we hold significant influence and responsibility in shaping the financial landscape of Gauteng. Through this pledge, we express our unwavering commitment to harnessing our expertise for the greater good of the province.
We, the Chief Financial Officers of Gauteng's leading corporations, hereby pledge our unwavering commitment to the financial sustainability and growth of our esteemed province. Recognizing the unique challenges and opportunities that Gauteng faces as the economic powerhouse of South Africa, we are dedicated to leveraging our financial expertise, strategic insights, and fiduciary responsibilities to drive inclusive economic progress within the province.
We commit to:
Ensuring transparent financial governance and accountability in our respective organizations.
Collaborating with CEOs, stakeholders, and the provincial government to allocate resources efficiently and responsibly within Gauteng.
Promoting financial literacy and empowerment initiatives to uplift communities within the province.
Supporting and investing in sustainable projects that align with Gauteng's socioeconomic goals.
Continuously evaluating and mitigating financial risks to ensure the long-term viability of our initiatives in the province.
Together, we believe in the potential of Gauteng and are dedicated to its financial prosperity.
Step 2: Join the Club: Be a part of the inner circle
The CFO Club: Where Vision Meets Voice
In the ever-evolving financial landscape, the power of collaboration and shared insights is undeniable. The CFO Club, curated by CIBA, is more than just a membership; it's an invitation to be at the forefront of financial leadership in Southern Africa.
By joining our distinguished community, you naturally transition into the inner circle of the CFO Roundtable. Here, your perspectives find resonance, and your challenges meet solutions, all in the company of peers who understand your journey. Step into a space where your expertise is not just recognized but celebrated.
Join the CFO Club and pay R1500 per annum:
Be invited to CFO Roundtable meetings.
Gain access to Gauteng decision-makers.
Receive updates regarding planned projects.
Receive the CFO Roundtable newsletters.