Written by Staff Writer
A recent study by Russell Reynolds Associates traced the career paths of Fortune 100 CFOs revealing that a whopping sixty-nine percent of CFOs are promoted from within their companies of origin.
Key takeaways
· The majority of CFO appointments are internal promotions representing sixty-nine percent of Fortune 100 CFOs. Only thirty-one percent were recruited externally.
· Divisional CFO role is the most common road to finance chief
· Women still only present ten percent of Fortune 100 CFO hires, but representation is growing. South African statics are more encouraging, albeit still dismal with 22 Percent of CFOs in JSE-listed companies being women. Read more here.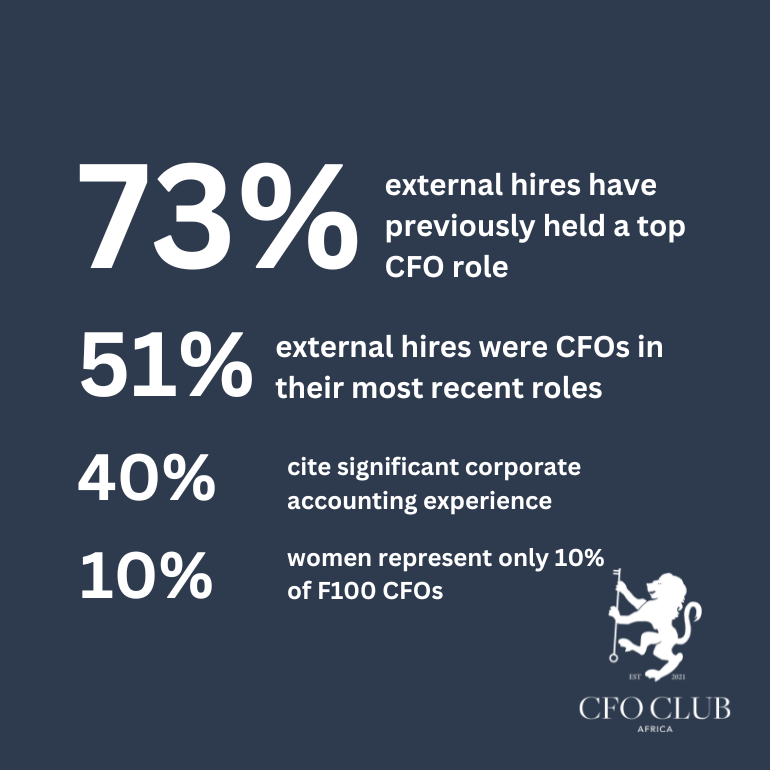 Russell Reynolds Associates recently published a study, published by Finyear, on the career patterns for Fortune 100 CFOs with some interesting lessons for African CFOs about the road to the top.
Previous experience as a divisional CFO is your best chance at securing the top job. Although the road to becoming a CFO hasn't changed significantly over the last 10 years, researchers are noting shifts in the trends. One of the noteworthy shifts is a "growing appetite for three core career experiences: general management, strategy or corporate development" and international experience.
Fancy finance degrees are not essential with only twelve percent of Fortune 100 CFOs holding an undergraduate degree from an Ivy league institution; however, most Fortune 100 CFOs hold an MBA (fifty-four percent).
Although only ten percent of Fortune 100 top jobs are held by women, women represent 20% of the Fortune 100 CFO hires in the past three year.