Firms in the US increasingly employ CFOs who haven't followed the traditional accounting career path. A study suggests CFOs who come from an accounting background may lack expertise in other areas needed for a modern CFO.
Research from Korn Ferry found that the percentage of CFOs who are also certified public accountants at large US firms dropped to 36% in 2019. In 2016, this figure stood at 46%.  
The Wall Street Journal attributes this to the changing nature of the role, stating, "Finance chiefs today often oversee more than just the books. They are increasingly in charge of human resources, information technology and elements of enterprise risk management." 
Is the opportunity cost of an accounting background still worth it?   
A study by academics from the Universities of Texas, Washington and the London Business School found evidence that CFOs of top US firms who come from a CPA background have less experience in other areas. The researchers looked at 8 000 CFO hiring events at US firms and used the presence of a CPA designation (similar to a CA) as a proxy for accounting expertise.   
The authors write, "We find that, relative to non-CPA CFOs, CPA CFOs  
are less likely to have an MBA, 

are less likely to have prior finance experience,   

have fewer years of their employment history working in a U.S. public company,   

are less likely to sit on the board of a public company." 
There are instances where the operating environment of a company makes it more likely that firms will hire someone with a strong accounting background. "… firms are more likely to hire a CPA-CFO when accounting in the industry is more complex and accounting regulatory requirements are more demanding," according to the authors.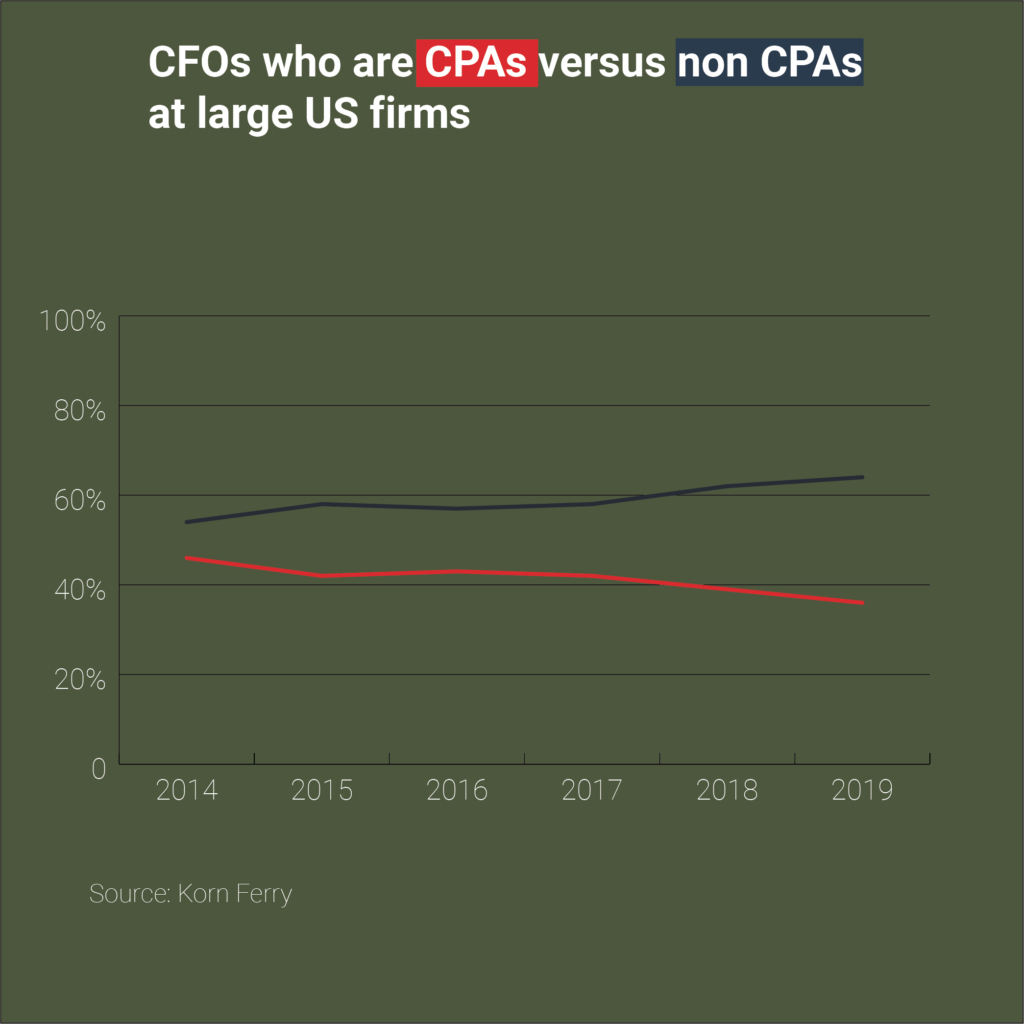 However, when firms were in financial distress, they are 14,6% less likely to hire a CPA-CFO when facing financial distress.
Concerning their findings the authors write, "Taken together, the results suggest that  CPA CFOs  are valued for their accounting expertise and companies respond to demand for financial reporting expertise by hiring CPAs as CFOs. However, the trade-offs associated with developing accounting expertise also appear to be significant enough to influence firms' hiring decisions; firms tend to appoint non-CPA CFOs if there is a greater demand for operational or general management skills. Boards also appear to consider  complementarities in the management team when they make hiring
CPAs are less likely to become CEOs 
The authors write, "… we find that CPA CFOs are less likely to become CEOs at the same firm in the five years following their CFO appointment, consistent with accounting expert CFOs having a lower option value to potentially advance to the CEO position." 
CIBA recognises that CFOs follow many different career routes. As such, the CFO(SA) designation does not require applicants to hold a C.A. designation or academic qualification in accounting. 
Holders of CIBA's CFO(SA) designation and members of the CFO Africa Club come from a diverse range of academic backgrounds and constitute an extensive knowledge sharing network.  
Find out how you can join this community of financial leaders here.